Former Territorial Army Parachute Regiment captain is told he must serve a minimum of eight years
Press Association
guardian.co.uk, Friday 25 May 2012 14.53 BST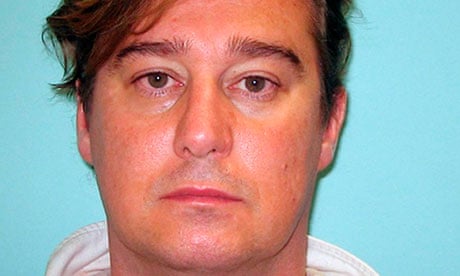 Brian Witty, who attacked two women he met on a dating website and two more he met in bars. Photograph: Metropolitan police/PA
A former soldier who carried out a string of sex attacks has been jailed indefinitely.
Judge Nicholas Price QC described Brian Witty, 41, as a "predatory rapist" as he told the former Territorial Army Parachute Regiment captain he would serve at least eight years before he could be considered for release.
Witty – who told one victim who rejected him: "I don't believe this, I'm a good-looking bloke" – was convicted last month of three rapes and one sexual assault on four women between 1995 and 2011.
Price, sentencing Witty at Kingston crown court on Friday, told him he was a "bullying, self-obsessed, arrogant sexual predator who was determined to indulge in fulfilling your desires, irrespective and dismissive of their pleas".
Witty, of Teddington, south-west London, met two of his victims through a dating website and preyed on the others after chance encounters in bars.
But after he was arrested he claimed the sexual encounters were consensual.
Price jailed him for six years for a rape in 1995, to run concurrently with three separate indeterminate sentences for two other rapes and a sexual assault.
Witty was told he would serve a minimum of eight years behind bars.
Handing down his sentence, Price said: "There is no doubt in my mind that you present a very real danger to women, and the only appropriate sentence in your case is one of imprisonment for public protection.
"It is clear to me you set out to prey on vulnerable women. You hid your base intentions behind a veneer of charm and lulled your victims into a false sense of security.
"Each of them was beguiled into believing that with your military background and apparent social attributes that you were a gentleman and would behave as one.
"Each of your victims described in chilling evidence how you went from being plausible and caring into a bullying, self-obsessed, arrogant sexual predator who was determined to indulge in fulfilling your desires, irrespective and dismissive of their pleas that you should desist."
Despite being arrested and interviewed after the rape at his home address in 1995, again after a sexual assault in 2006 and after another rape in 2008, charges were never brought by the Crown Prosecution Service.
Price told Witty: "The consequences meant you considered yourself to be untouchable by the authorities.
"With the benefit of hindsight it is perhaps too easy to say that, had you been successfully prosecuted in 1995, you may well not have been free to commit these other later serious offences."
It was only after Witty was arrested following a fourth attack in August last year – during which Price said he changed from being "charming and good company" to a "demanding, frightening and determined rapist" – that charges were brought.
Price praised the women for coming forward again after so many years, saying if it had not been for the determination of Witty's last victim, he may never have been brought to justice.
The attacks had "a clear and obvious and serious effect for each of his victims", the prosecutor Edmund Gritt said.
A statement from his first victim read: "When I heard the verdict I was happy. I thought I would be happier, but I wasn't.
"The fact is, what happened to me 17 years ago has shaped who I am today, emotionally and physically. Memories I thought I had escaped are still there.
"My challenge is to move on from this, but the problem with moving on is that I will never forget. It is something I will have to live with for the rest of my life."
A statement from Witty's final victim read: "There have been times when I struggled to ever see a way forward through all this, yet I know I have to.
"The guilty verdict doesn't change the past. I still have to find a way to live with myself now, a changed and different person from that I was before."
Price said: "If anyone ever doubted the devastating long-term consequences of rape and sexual assault, these statements provide eloquent testimony against such doubt."
Witty was placed on the sex offenders register for life, and if released will be on licence for life.
http://www.guardian.co.uk/uk/2012/may/25/rapist-brian-witty-jailed-indefinitely?INTCMP=SRCH